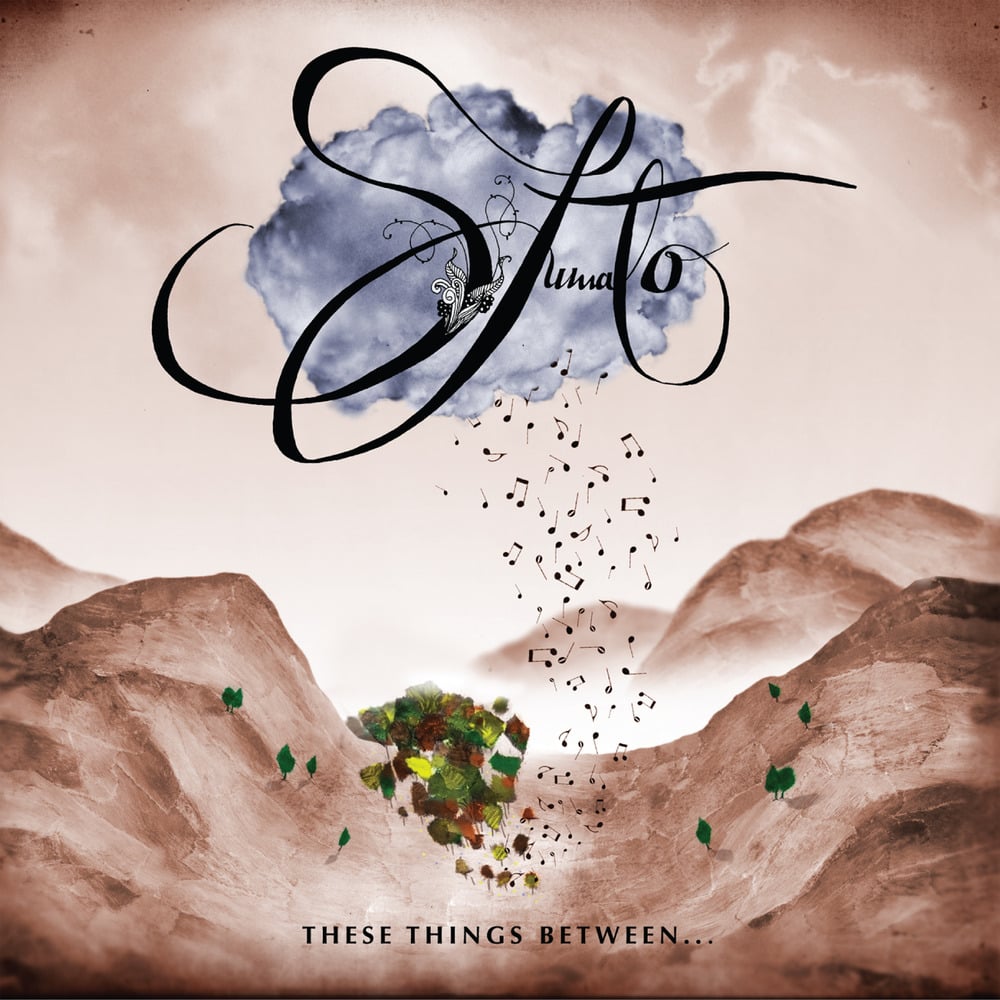 Sfumato - These things between... - LP
by Sfumato
€

9.99
---
---
LTL-003: Sfumato - "These things between..."
Format: CD
Label: Learn To Love
Released: 11th May 2012
Reviews:
"Melodic and soulful.." - Siobhan Maguire (Irish Sunday Times)
"Beauty.. Lovely, moving.." *** - John Meagher (Irish Independent)
"Rich blasts of harmony.. an unquestionably easy listen.." *** - Lauren Murphy (The Irish Times)
"..an easy-listening folk album.. propelled by gentle guitars and faint percussion" *** - Mark Kavanagh (The Star)
"It's epic, yet intimate; heartfelt, without lacking perspective; it's perceptive but aches with world weary humility; and it is one of those rare albums that emerges perfectly formed from a personal crisis." - Mumblin' Deaf Ro
"A worthwhile venture from behind the kit has led to a beautifully crafted and delivered opus of heartache. Passionate and precise in pace and delivery, and all with a wonderful glow. A must!" - Stephen Purcell (www.WeAreNoise.com)
"..a beautifully constructed sound scape using folk and musique concréte elements.. cinematic.. an ambient and sonically engrossing album.. Sfumato creates a textural characteristic to his music that evokes the artistic imagery of his namesake." - Stephen White (www.TheBlend.ie)
"..spell-weaving.. the first time he has stepped out from behind the kit and put his deliciously weather-beaten voice to work. A soaring, charging love song of the purest kind.." - Celina Murphy (HotPress)
CD Tracklist:
1. Fly to me
2. Pound
3. Ostia
4. Let me leave you
5. The past
6. Song to myself
7. Gold and lace
8. You're no company
9. These things between...
10. Mo ghrá
11. I was hoping you might...
All songs written and performed by Daithí Ó hÉignigh with...
Miriam Ingram ~ backing vocals
Rebecca Collins ~ guest vocals on 1
Eoin Dillon ~ uileann pipes on 9
Muireann Nic Amhlaoibh ~ guest vocals on 10
Mischa Langemeijer ~ saxophone on 6
Esosa Ighodaro, Nono Madolo, Alice Burke & Christine Nalubega ~ choir on 3, 6, 7 & 8
Strings arranged & performed by Abigail Smith and Lioba Petrie on tracks 2, 4 & 9
About:
"In the unpredictable, often shallow world we live in, it takes courage to follow your heart, and even greater strength to follow what some philosophers describe as your bliss. Irish musician and songwriter Daithí Ó hÉignigh, however, has done just that…
The result of this creative about-face is the forthcoming debut, These Things Between… Recorded under the band title of Sfumato (a painting technique used by Leonardo Da Vinci, meaning the softening of sharp outlines by subtle, gradual blending of one tone into another), the album is a balm for the sick and indignant as it relates via a searingly honest song cycle a troubled journey from darkness to light.
A clear vision and a truthful voice (complete with simple, heartfelt words delivered in an egoless manner) have been uncovered. From desolation to euphoria, from imprisonment to escape, from being beaten up by dogmatism to engaging with ambiguity... and ultimately allowing back into his life the grey areas found between black and white.
Daithí has fashioned something of a gem with These Things Between... From start (Fly To Me) to finish (I Was Hoping You Might...) it rings clear with frank and straightforward intent. The music zings with anti-authoritarianism. Daithí produces the videos which accompany the music on similar staunchly independent lines."
- Tony Clayton-Lea
Daithí first presented himself to the world of music in 1998 playing drums in a little-known alt-rock band called the Null Set. He formed Alpha Relish promotions in 1998 which ran for 9 years bringing bands like Blonde Redhead, Melt Banana, Nina Nastasia & ESG to Irish shores for the first time. Alpha Relish also released recordings by The Null Set, Daemien Frost, Montana Pete and Melt Banana between 1998 and 2001 and partnered up with Road Records in 1999 to form Road Relish, a small indie label which released 14 split double-A side 7"s over a period of 5 years featuring artists such as Glen Hansard, David Kitt and The Redneck Manifesto to name but a few.
Daithí played drums with Daemien Frost and Giraffe Running during the mid-2,000's - both instrumental/experimental rock bands who played at SXSW and toured in Italy, France and the UK. The release of Daemien Frost's 2nd album and Giraffe Running's 1st - a global collaboration featuring members of Battles, Max Tundra and Melt Banana - prompted the morphing of 'Alpha Relish' into 'Learn To Love', perhaps also signalling a fundamental shift in the mind-set of the proprietor.
Daithí remained relatively 'inactive' for a number of years and has recently re-emerged under the guise of "Sfumato", an adventure into the worlds of folk and soul music. This is Daithí's first time stepping out from behind the drum kit, organising his thoughts, putting pen to paper, taking up a guitar and singing words he thought fit to write down... like he says, "It's been quite a journey.."