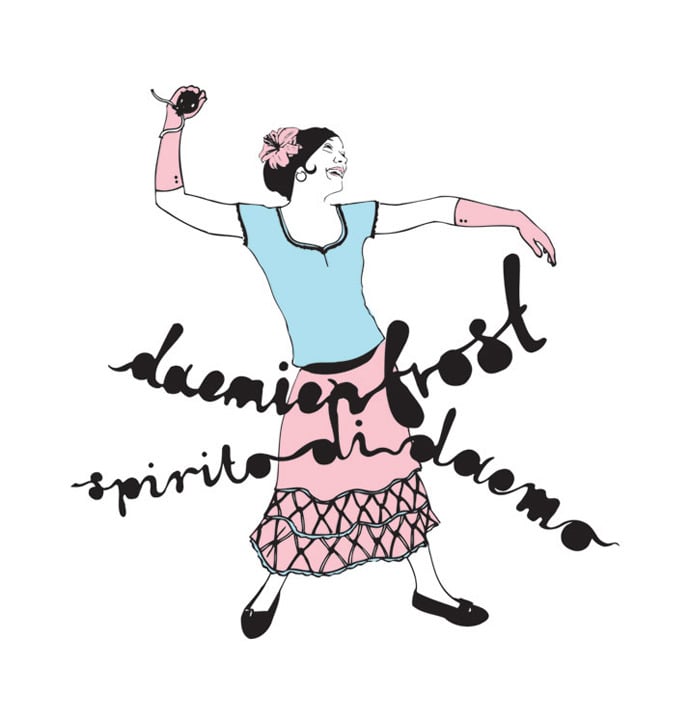 Damien Frost - "Spirito Di Daemo" CD + DVD
by Daemien Frost
€

9.99
---
---
LTL-002: Daemien Frost - "Spirito Di Daemo"
Formats: DVD + CD
Label: Learn To Love / Red-F
Released: May 2008
Reviews:
"Bonus marks galore for Dublin four-piece Daemien Frost for the intricately detailed packaging which accompanies this bumper release. One disc contains a re-upholstered version of the band's debut album, Corpus Daemo, complete with a couple of additional taut, sharp and ever-so-slightly wiggy tracks. The other disc is an action-packed DVD with promo videos, live footage and the 'Living On The Ledge' story-of-the-band... the live footage and promo videos directed by such small-screen powerhouses as Delicious 9 give a much broader and more realised sense of the band's work and pitch."
*** Jim Carroll, The Irish Times. Review
"For the most part, this project is devoted to the oblique pleasures of caffeinated grooves and edgy atmospherics - just the thing for nostalgia junkies who wish more artists were nowadays prepared to take a blow-torch to the time-worn conventions of rock'n'roll. The CD comes in a gorgeous fold-out sleeve that is, in itself, a minor work of art."
**** Eamon De Paor, Metro.
CD:
1. Sexorsize
2. Ya Basta!
3. Cocorico!
4. Slida
[Tracks 5-11: "Corpus Daemo" Remastered]
5. You've changed
6. Who stole the rock?
7. Slut style
8. Also run
9. In league with the Amazons
10. Duck gait parade
11. The song breaking up
DVD:
1. Living on the ledge (The story of Daemien Frost)
2. Live footage
3. Videos
- Who stole the rock? (J. Bassetti)
- Also run (Apeonaut)
- Slut style (Apeonaut)
- Duck gait parade (Delicious 9)
- Cocorico! (Fran Power)
4. Extras
- Giraffe Running
- Live footage
- Video: "Sharp light" (LMD64)
- The making of the video - Duck gait parade (Delicious 9)
- Lyon art project
About:
Daemien Frost was formed by Hag and Dave on 26th December, 1999. Originally a 2-piece, Dave and Hag used the help of some keyboard loops to write the first few songs. Mark was invited to join in April 2000 on 'hi-bass'.
DF played their first gig in Whelans of Wexford St. in June 2000. Their first single (split with The Jimmy Cake) which featured "Slut Style (Trinity version)" was released by the Road Relish singles club in May 2001. Between May and October, 2001, the material for the band's first CD, 'Corpus Daemo', was written. The CD was recorded in one day by John Bassetti.
DF toured the UK with Montana Pete in September 2001. Greg Barrett was invited to join the band in Spring 2003 on 'lo-bass'. Recording for the band's second CD, "Spirito Di Daemo", took place, again in one day, in the Autumn of 2003. John Bassetti engineered the recording once again.
"Spirito Di Daemo" was released in May 2008 on Red-f / Learn To Love. It contains 4 new tracks as well as all of "Corpus Daemo", which has been re-mastered by Dan Barry. The CD is accompanied by a DVD which contains all of the band's videos, a small feature on the band, live footage from tours and festivals and some live footage of Giraffe Running, Hag and Greg's other band. The cover was designed by Matthew Bolger (The Redneck Manifesto) and was printed by Jeff Mueller at Dexterity Press in Chicago.
http://www.daemienfrost.com/